Once again while browsing the latest raw images from Cassini, I noticed this image sequence. It was shot on June 10th with the camera pointed toward Enceladus which was approximately 3,911,272 kilometers away. Enceladus is the little black dot occulting Titan with the mid-point of the occultation occurring on June 10, around about 15:39 UT (best guess observing Enceladus from Cassini in Starry Nightâ"¢ Pro 5). I cropped and combined the images in Photoshop to create this short animation.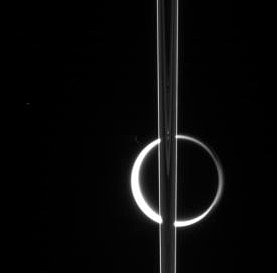 Why?
Well, because (at least for me anyway) seeing things in motion tends to fire my imagination. I hope I'm not alone here. I think it would behoove the folks that manage Cassini to point the camera at Saturn and image a complete orbit. Imagine the PR value of a big, beautiful, full-color animation of riding Cassini for a "stately" orbit of Saturn. I'm not talking one of those 30 second deals here, I'd like to see it over 5-10 mintues. I don't know what science benefit such a thing could have — if any — but I'm sure someone somewhere could concoct a reasonable excuse to do it.
On an unrelated note, this year's festivities have officially commenced here in the Sunshine State. Althouth I certainly don't mind cashing in my "direct hit voucher" for a lowly tropical storm. Got my fingers crossed.