Archive for the 'Images' Category
I stumbled upon this fantastic 360VR image taken on the flight deck of the space shuttle Discovery during its decommissioning in the Orbiter Processing Facility (now the new "Employee Lounge" for those still with jobs).
The official decommission date of Discovery was listed as March 9, 2011. By its last mission, Discovery had flown 148 million miles (238 million km) in 39 missions, completed 5,830 orbits, and spent 365 days in orbit in over 27 years. Discovery flew more flights than any other orbiter in the fleet. Discovery's final flight was February 24, 2011.
Discovery will replace Enterprise in the Smithsonian's display at the Steven F. Udvar-Hazy Center in Virginia.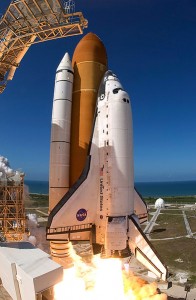 I came by these images via a NASA employee who is related to an acquaintance of my wife (got that?). Although I do not have the particulars of how they came to be taken or by whom, I've decided to post them because they are just too cool!
The NASA employee indicated that they are likely pubic domain due to the fact that NASA is a government agency. If this is not the case I will gladly remove them if legally notified to do so. I would love to be able to properly credit these images.
This batch is from the final Atlantis mission in May. They were taken from one of the f-15s patrolling the skies over KSC.
Enjoy!
UPDATE: Here we go. I found one of these images on Discovery. I assume the same credit applies to all. 😉
Lt. Col. Gabriel Green and Capt. Zachary Bartoe patrol the airspace in an F-15E Strike Eagle as the Space Shuttle Atlantis launches May 14, 2010, at Kennedy Space Center, Fla. Colonel Green is the 333rd Fighter Squadron commander and Captain Bartoe is a 333rd FS weapons system officer. Both aircrew members are assigned to Seymour Johnson Air Force Base, N.C. (U.S. Air Force photo/Capt. John Peltier)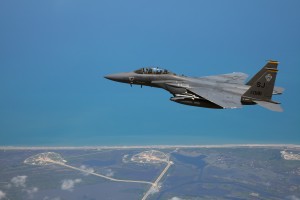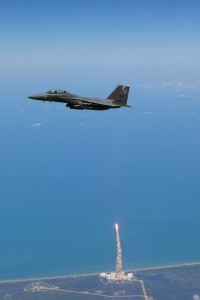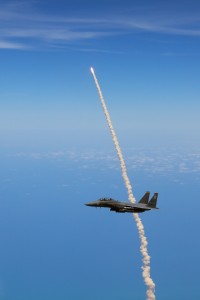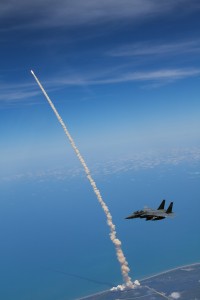 There is a chance I'll be getting more so tune in again soon!
This is the launch plume from the recent shuttle launch STS-131 Discovery just before sunrise. I of course missed what was a freaking amazing launch from my vantage point in the Tampa Bay area but about 30 minutes after the launch I went outside and saw this. It's amazing how the upper level winds distort rocket exhaust and how long it lasts on some occasions. It was an amazing sight in the rising sun.
You can click through for the HD version!
Crepuscular rays occur when objects such as mountain peaks or clouds partially shadow the sun's rays. The name crepuscular means "relating to twilight" and these rays are observed at sunrise and sunset. Crepuscular rays appear to diverge outward from the setting sun, and are visible only when the atmosphere contains enough haze or dust particles so that sunlight in unshadowed areas can be scattered toward the observer.

The light rays are actually parallel, but appear to converge to the sun due to "perspective", the same visual effect that makes parallel railroad tracks appear to converge in the distance. Crepuscular rays are often red or yellow in appearance because blue light from the sun is selectively scattered out of the beam by air molecules.
I live about 15 miles WSW of Tampa and crepuscular rays are a common occurrence. I suspect that what is causing them here are the buildings in downtown Tampa to the east in conjunction with the "flatness" of Florida. I've been observing them for years about 1/2 hour before sunrise and have never really considered them uncommon phenomena. It will be interesting over the next few days to see if they appear in the same configuration. If so then they are not caused by clouds… and CERTAINLY not by mountains. 😉
This morning's apparition.