Well, if you want to call it that. After a half dozen nights out in the dark trying to work out an imaging procedure (with the scope, an iBook and a number of different video cameras), I finally captured a decent movie of Jupiter last night.
This image is a stack of about 8 frames, post-processed in photoshop. It was taken with the Meade Lunar Planetary Imager (LPI)
click for larger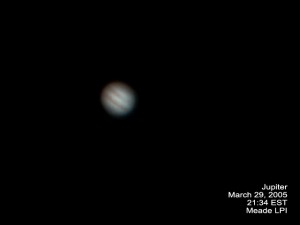 I can honestly tell you astrophotography is not a simple "point and shoot" exercise. I tried a Logitech QuickCam Pro 4000, an Apple iSight (with a hacked together homemade adapter, my Sony Camcorder (held to the eyepiece), an Olympus D-460 digitial still camera… and finally the LPI.
As with anything else I expect with practice (and more properly aligning my sight scope) it will get somewhat easier at any rate.
FUN stuff!