Terragenâ"¢ includes some neat QuickTime VR tools. Here is my first render of a QTVR scene with Terragen. It's just a "quick and dirty" scene I whipped up to test. Hold down the left mouse button and drag around the scene to navigate.
click the image to open the QTVR scene in a new window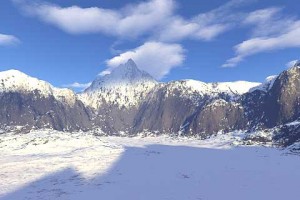 You'll need Apple – QuickTime to view the file.
Last night I created an animation script and started a render projected to take about 15 hours (500 rendered frames). I should have it later today if all goes well… :).
Stay tuned!