I was browsing the latest posted raw images from the Mars rover Opportunity and I couldn't help but notice a sequence of Panoramic Camera images overlapped at the edges. I stitched together 5 of of these images (Left Panoramic Camera : Filter 2 (753nm near-infrared) : Non-linearized : Full frame EDR acquired on Sol 891) to create the panorama below.
Raw image credit: NASA/JPL/Cornell
If you've read any of the recent posts here you'll know I'm a huge fan of the "gee whiz" factor when it comes to astronomical/space related images, so for kicks and giggles I created a colorized version as well. This is in NO WAY an accurate representation of true color. It is simply my "gee whiz" approximation.
Raw image credit: NASA/JPL/Cornell
I'd love to tell you exactly where the rover is and the direction these images represent but the "Where Are the Rovers Now?" page is about 13 Sols (Martian days) behind the current position. I believe Opportunity is somewhere near Beagle Crater on it's way to Victoria Crater. Perhaps in a future update I will be able to add the geographic details regarding these images. Here was the location as of Sol 878.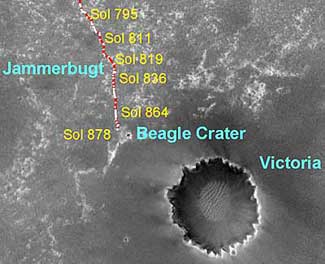 Image credit: OSU Mapping and GIS Laboratory